Alienware Aurora 5500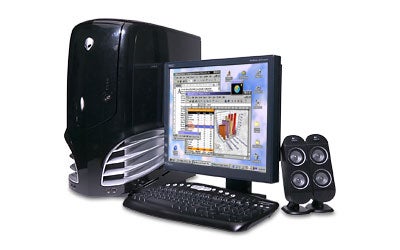 Alienwares provide top-knotch performance, incredible graphics, and a powerful pc feeling.
This particular desktop has been known to provide an average of 283 frames per second and its muscle stems from AMD's flagship 2.6-GHz Athlon 64 FX-55 processor paired with dual 160GB hard drives. I won't go too much into detail but reports have informed that music and other multimedia is absolutely amazing in this pc.
On top of such powerful features, it has a unique and hi-tech design to it.
There's only one small problem with it, the price tag. The aurora 5500 starts out at about USD $3699
Besides that, this is one incredible pc for those of you who find performance as a deciding factor when buying a pc.